This Participative Change Process offers a framework that invites new thinking, taps the whole range of the group's experience, and elicits authentic ownership. It has 4 stages that align your business and results in a plan that people are eager to implement. We work individually, in small groups, and as a large group so participants can interactively build and buy into the results. Our approach blends several types of planning that engage people . We analyze how we facilitated the group so participants can see how to use technology of participation methods for engaging their own teams.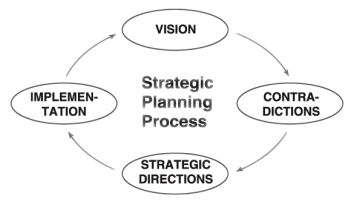 The Practical Vision. A practical vision is a dynamic and evolutionary expression of hope and intention that needs to be constantly reviewed and, more importantly, renewed. We will emerge with 6-8 vision elements.
Underlying Contradictions. The real issues facing an organization become clear when placed under the light of a practical vision. As a group considers the entire range of its issues together, root causes can be uncovered and objectified for sober consideration and action. We will emerge with the 6-8 most crucial barriers to change.
Action Areas and Strategic Directions. By taking into account an organization's vision along with its identified contradictions, actions can now surface that will have a strong impact. The result is a fresh, insightful, and effective map for change.
Implementation Plan. Individuals and newly-formed teams create calendars, schedule meeting times, and complete Implementation Worksheets with measurable specifics . The outcome is a motivating, relevant 90 Day Plan that the entire group can actively endorse.